Sa 18.08.018 cruising open air love sex BBQ 3
16:00 / south neukoelln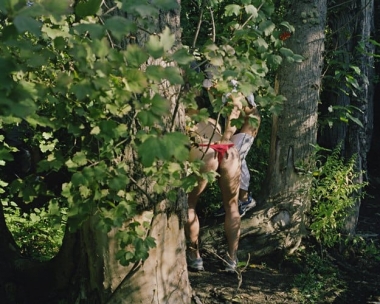 AT MY OWN RISK …

"… i went out. making eye contact with strangers i passed in the park. most would keep their heads down and avoid eye contact. even when i came across someone who i was interested in and who was looking back at me, i found it difficult to hold eye contact: i just felt exposed and vulnerable.

the more i've done it, the more the world has seemed to open to me. my senses are sharpening. i'm more aware of the men around me. i'm learning how to cruise."


RECLAIM THE POLITICS OF CRUISING

3 of our most favourite things combined: cruising, grilling and music. this time after 2 years in the cruising area volkspark friedrichshain love sex bbq is going to spread her wings and create a temporary queer liberated public area somewhere in neukölln.

come, join and sex up the public space with the ultimate gay outdoor LOVE SEX BBQ 3!

our music friends are listed below

cruising with music
grill with stuff
meet and heat
d.i.y. + donation


+ tell it to your nicest friends (invite them here)
+ respect the gay cruising area
+ welcome all genders!
+ yes to all kinds of safer sex (kondome at the grill)
+ bring everything you need:
hot guys, drinks and lube
+ please take your garbage home

no lookism, no mackerism, no racism.

AUF MEIN EIGENES RISIKO ...

"… ging ich raus. blickkontakt mit fremden, denen ich im park begegnete. die meisten den kopf geneigt und augenkontakt vermeidend. selbst als ich jemanden sah, der mich interessierte und der zurückschaute, fand ich es schwierig, augenkontakt zu halten: ich fühlte mich entblößt und verletzlich.

je öfter ich es versuchte, desto mehr schien sich die welt für mich zu öffnen. meine sinne schärften sich stück für stück, der typen um mich herum bewusster. ich lerne zu cruisen."


DIE POLITIK DES CRUISING EROBERN

3 unserer liebsten dinge in frieden vereint: cruisen, grillen und musik. nach 2 jahren im cruising hinterm märchenbrunnen im volkspark friedrichshain wird love sex bbq in diesem sommer ihre flügel ausbreiten und einen temporären, queer befreiten öffentliches raum irgendwo in neukölln besetzen.

komm, mach mit und sei mit uns das ultimative, gay-queere outdoor LOVE SEX BBQ 3!

this are our music friends:
jan paul anders, robert audien (the pantheon bar), xenon (bambola/barcelona), sylva rymd (://about blank), the human cocktail party machine (oren marzam + lea), amperia, gold tier (schwuz), tri oxide, dj party cable, diashi (mikrodisko)